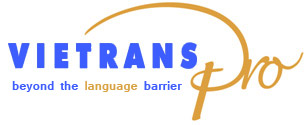 Professional Service – Continuous Creativity and Reliability
The logo is the inscription of the brand name VIETRANS PRO. which is inspired by the company abbreviation name VIETRANS CO., LTD with the word PROFESSIONAL. This word consists of two parts:

The text

is in simple form that shows the solidity, accuracy and honesty. The combination of dark blue, inherited from the traditional blue color of Vietnam Professional Translation Company, and yellow-orange color represents the trust, friendliness, openness and vitality.
The letter P and the letter O are combined to form

that represents the goal of achieving professional service quality. This is the criterion for assessing the quality of business activities. This image with harmonious curves shows dynamism, youth and creativity, adapting to the times on a solid foundation of the word

that together creates a perfect "Vietnamese Professional Translation" in its operations. The use of orange color gives an image of success while still showing the warmth and closeness.
The beginning of the letter

 extends and overlaps the letter

to show the outreach as well as a clever reminder of the break between the two letters VIET-TRANS which are the abbreviations of "VIETNAM TRANSLATIONS". This also shows that the business sector of "Translation" which is one of the main business sectors of Vietnam Professional Translation Company.
The company's Slogan "Beyond the language barrier" or "Vượt mọi rào cản ngôn ngữ" in Vietnamese means that Vietnam Professional Translation Company always ensures to provide customers with efficient service solutions, helping customers overcome all barriers caused by language differences.
The logo image focuses on 3 outstanding values that Vietnam Professional Translation Company commits to bring to customers and partners - "Professional Service, Continuous Creativity and Reliability". At the same time, the logo of Vietnam Professional Translation Company also shows the direction of constantly developing, diversifying activities, actively integrating and building a multi-disciplinary and powerful translation company with the human resources of strong solidarity and continuous creativity for constantly creating for practical values for customers and partners.