Open Letter

Business Philosophy

Quality Commitment

Brand identity
Dear valued customers and all staff,
On behalf of the Board of Directors, I would like to express my deep gratitude to you - who have put your trust and accompanied us in building and developing the company during the past time.
Growing up from a competitive and challenging environment as the country transitions to a new economic era, "Human-centered", and constantly improving the working motivation and staff capacity, continuously innovating to improve performance and competitiveness in its field of expertise, Vietnam Professional Translation Company has made great progresses in its development. With the slogan for its operation of "Professional service, Non-stop creative and reliable", Vietnam Professional Translation Company always receives high appreciation, trust and support from national and international customers and partners.
Always uphold the mission of serving, being a bridge to communicate the language of humanity, with the right development policies, the trust of customers, the efforts of the Board of Directors and all staff, Vietnam Professional Translation Company is confident to continue to grow, continue maintaining the professional ("Pro") style moving forward, becoming a leading translation service provider brand in Vietnam and the world.
Once again, I would like to express my sincerest thanks to all of you!
Best regards!

MA Vu Thanh Tung
President and CEO, Vietrans Co., Ltd
Our Philosophy and Values
1. Commitment to Quality
"Offering high quality translations every time" is the business objective we have set out to achieve since our establishment. This has been the underlying philosophy of our organization's growth and international expansion.
2. Adaptability
Every client operates with unique business infrastructure and processes. VietransPro is always ready and willing to integrate and adjust to clients' internal workflows, content management tools, accounting, and financial systems to achieve required performance levels.
3. Technical Expertise
It is vitally important not only to use native language, qualified translators in order to guarantee the highest quality translations but also to utilize language technology successfully in order to transfer benefits to our clients. VietransPro operates with the philosophy of continually advising its clients and taking initiative to help them create or update their company specific translation solutions
4. Stability
We believe in growing and advancing along our people and clients. The company's main focus is on creating a productive and enjoyable workplace for its employees that subsequently has led to the full commitment and dedication of the entire team. VietransPro is a financially healthy company with net profits rising every year.
5. Collaboration
Intense competition and advancements in technology have led the industry players to pick up their pace and transfer knowledge throughout their supply chain. VietransPro has identified the need to work with different teams/ departments and operates with an open and sharing philosophy of know-how and expertise in order to continuously upgrade its services and meet client requirements.
We prioritize quality in everything we do.
Commitment to Quality
From the standard of our products and services, adherence to deadlines, outstanding customer service and project management through to our responsiveness to feedback, we drive our energy into making our service the best it can be, helping your business to maximise its commercial potential.
We are fanatical in our commitment to service and quality. We consider the entire client experience, not just one interaction and we exceed expectations every step of the way.
With proven best practice methods in place, we are confident to provide the services meeting your demands.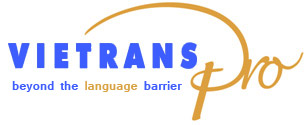 Professional Service – Continuous Creativity and Reliability
The logo is the inscription of the brand name VIETRANS PRO. which is inspired by the company abbreviation name VIETRANS CO., LTD with the word PROFESSIONAL. This word consists of two parts:

The text

is in simple form that shows the solidity, accuracy and honesty. The combination of dark blue, inherited from the traditional blue color of Vietnam Professional Translation Company, and yellow-orange color represents the trust, friendliness, openness and vitality.
The letter P and the letter O are combined to form

that represents the goal of achieving professional service quality. This is the criterion for assessing the quality of business activities. This image with harmonious curves shows dynamism, youth and creativity, adapting to the times on a solid foundation of the word

that together creates a perfect "Vietnamese Professional Translation" in its operations. The use of orange color gives an image of success while still showing the warmth and closeness.
The beginning of the letter

 extends and overlaps the letter

to show the outreach as well as a clever reminder of the break between the two letters VIET-TRANS which are the abbreviations of "VIETNAM TRANSLATIONS". This also shows that the business sector of "Translation" which is one of the main business sectors of Vietnam Professional Translation Company.
The company's Slogan "Beyond the language barrier" or "Vượt mọi rào cản ngôn ngữ" in Vietnamese means that Vietnam Professional Translation Company always ensures to provide customers with efficient service solutions, helping customers overcome all barriers caused by language differences.

The logo image focuses on 3 outstanding values that Vietnam Professional Translation Company commits to bring to customers and partners - "Professional Service, Continuous Creativity and Reliability". At the same time, the logo of Vietnam Professional Translation Company also shows the direction of constantly developing, diversifying activities, actively integrating and building a multi-disciplinary and powerful translation company with the human resources of strong solidarity and continuous creativity for constantly creating for practical values for customers and partners.
Hide Main content block